Is House Bill 1371 a Trojan Horse? Yes! And a Trojan Cow, Trojan Pig, Trojan Chicken…
The phrase "Trojan horse" arose from a massive wooden horse said to have been used by the Greeks during the Trojan War to deceptively enter the walled city of Troy. I can't read ancient Greek and I suspect few readers of this essay can read it either, yet after thousands of years, the Trojan horse story still resonates, as it perfectly symbolizes my opinion of North Dakota's Governor Burgum's intentions with proposed House Bill 1371.
Here is a graphic illustration of how a Trojan horse works.
Trojan horse (noun): 1)  hollow wooden statue of a horse in which the Greeks concealed themselves in order to enter Troy. 2) a person or thing intended secretly to undermine or bring about the downfall of an enemy or opponent.
Governor Burgum spoke in favor of the components of HB 1371 in his State of the State speech and ten respected Republican legislators are sponsors. I sincerely hope they will reconsider their support of this bill.
Allow me to outline just a few of the many flaws in Governor Burgum's State of the State Speech:
Is the anti-corporate farming law "archaic"? 
No.  Many North Dakota laws are of the same vintage as the anticorporate farming law, which   was first adopted by a voter initiative in 1932.  The legislature has protected it while modernizing it to meet modern business structure.  The Attorney Generals of North Dakota have generally been strong advocates of the law in both federal and state courts. The law has passed muster in the Supreme Court of North Dakota and of the United States. It is also very popular. In the June 2016 primary (the election in which Governor Burgum was endorsed to run as the Republican nominee for governor), 68,047 North Dakota voters supported Doug Burgum, but they liked the anti-corporate farming law even more than they liked candidate Doug Burgum.  The anticorporate farming law got 99,976 votes.
Is Burgum correct that "freedom applies to everyone and every industry, except our farmers and ranchers"?
No.  This is hyperbole. As a lawyer, I can think of many limitations imposed by state law on many industries and businesses.  There are, for example, laws that prevent an out-of-state lawyer from coming into North Dakota to practice law, unless she meets North Dakota's licensure requirements and pays fees for the privilege of doing so.  The sanctions even include jail for practicing law without a license.  And, as an author, I can't plagiarize other people's work. The officers of Doug Burgum's real estate businesses in Fargo would squawk if a Minnesota developer came into Fargo without following the rules and regulations that govern applicable  bonding, licensure, and standards of construction in Fargo. The anti-corporate farming law arose from real problems with corporate ownership of farms. Eliminating that law may cause a recurrence of those problems.
Do Governor Burgum's illustrations show that North Dakota's livestock sector is in dire shape because of the anti-corporate farming law? Does that mandate its amendment?
No and no. Governor Burgum's speech is sprinkled with statistics taken out of context and used in a misleading way to "bad mouth" North Dakota's farm and ranch economy.  One example that I thought was particularly inept, was his assertion that North Dakota had more dairy cows in 1934 than we have today. This is very confusing. In 1934, the anti-corporate farm law – which had a 10 year delayed effective date – hadn't even kicked in, but farmers were in extreme distress, in part because helpless tenant farmers being exploited by large out-of-state corporations. Indeed, the well documented miseries that farmers experienced when corporations were allowed to farm in North Dakota were the reason for the adoption of the law in 1932.
Burgum also stated that there are fewer cattle in the state than there were in 1975. Perhaps so, but this is a cherry-picked data point as much of that was temporary and caused by a huge sell-off during the drought of 2021.  He lamented that North Dakota is 23rd in terms of "cattle on feed" while Minnesota is 8th and South Dakota 7th, but inexplicably fails to discuss the strength of North Dakota's cow calf operations, which are the mainstay of the state's cattle industry. Nor does he mention that North Dakota has many more beef cattle than does Minnesota.
I find it fascinating that he claimed that there is a "long downward trajectory of animal agriculture in North Dakota," but failed to mention bison, where we are first in the nation, and the New Rockford bison meat packing plant is expanding because of consumer demand.  I absolutely agree that dairy farmers in North Dakota need a helping hand, but should that helping hand be offered to corporations without North Dakota roots? I'd suspect that an interim study committee would find a host of opportunities to support dairying and dairy farmers without allowing corporations (many of them foreign owned) to commence dairy farms in North Dakota.
I think that the crux of Governor Burgum's advocacy for repeal of North Dakota's anti-corporate farming law is this phrase: "the field is so uneven when it comes to capital access and capital formation."  The proposed cure – to  allow corporations to invest in, own, and run North Dakota livestock farms and ranches in competition with North Dakota farmers and ranchers – is neither a solution or a cure for farmers' legitimate problems. It is analogous to getting a fever while you still are suffering from a headache.
I don't deny that many farmers involved with livestock are having difficult times; in fact, I'm worried about their survival.  But I don't think the State of the State speech came close to presenting a carefully thought out plan for how to fix these farmers' problems. In fact, I think the proposal is a Trojan horse:  it will open North Dakota farmers and prospective farmers to stiff competition for land from billionaires, from investors like the Mormon Church or Burgum's buddy Bill Gates.
I realize that HB 1371 requires that the land purchase be for the purpose of livestock agriculture.  But what if the livestock agriculture is simply a façade or a ruse to be allowed to invest?  The record of making corporations divest themselves of land acquired in contravention to the anti-corporate farming law is miserably bad.  Once they have the land, they won't disgorge it without a fight.
Governor Burgum's proposals will clearly benefit corporate investors more than family farmers and ranchers.
I'm troubled by his affiliations with Arthur Ventures in Minneapolis and Arthur Companies. I'm troubled by friendship with Bill Gates, who is now the nation's largest farmland owner (Gates donated $100,000 to Burgum's first campaign). I am not an investigative journalist, but I do detect a certain amount of self interest in Governor Burgum's enthusiastic embrace of corporate investment in North Dakota farms and ranches.
HB 1371 is a Trojan horse because if additional credit or capitol is needed, there are many avenues to provide it to North Dakota farmers and ranchers without repeal of the anti-corporate farming law.
Let's go back to Burgum's claim that the field is "uneven" for farmers and ranchers access to capital.  I disagree.  In fact, the opportunities for North Dakota farmers and ranchers are better here than elsewhere in the country because we are the only state with a state-owned Bank of North Dakota.
However, under recent leadership, BND is not fulfilling its mission to farmers and ranchers.  Instead, it is being used as a "cash cow" to balance the state's budget. Every two years since 2017, the Republican led legislature has transferred $140 million of bank profits to the State's general fund to help balance the budget.
According to BND President/CEO Todd Steinwand, the Bank's 2022 profits are on track to reach $145-150 million.  If even 25% of the funds now being used to balance the state budget were redirected to the support of animal agriculture on privately owned farms and ranches, there would be no plausible excuse to repeal the anti-corporate farming law.
The mission of the Bank of North Dakota is clear:  to support business, industry, and agriculture.   It is not intended to be used to balance the state's budget.
Instead of passing HB 1371, the legislature should put the Bank's muscle to work for our livestock sector owned by family farmers and ranchers, not to fill the gaps of the Governor's budget.
Enough with the whining about shortage of investment capital as a way to open the barn door to corporate ag fat cats, trampling on the North Dakota farmer. A better answer is already "in the Bank."
Here are some BND programs that can be used right now to help North Dakota's farmers and ranchers.  Some of them cry out for better terms conditions and funding.
Breeding Stock Loans. This is a loan program limited to North Dakota livestock producers who want to buy breeding stock, in an effort to recover from the 2021 drought. Up to $150,000,000 in loan funds were set aside (first-come, first serve) with a cap of $500,000 per loan from the BND.  This would mean as few as 300 farmers and ranchers could be helped (if each needed the maximum to rebuild their herds).  On these loans, the interest starts right away – why not give a grace period? Loans have to be repaid in no more than 7 years – why not longer? Loans could be interest only, but that feature could only be for the first two years – why not longer? The interest rate of at least 25% of these loans (the portion that is held by the originating lender) is up the local bank.
Ag Pace Loans. This is a program I helped to start when I was Commissioner of Agriculture. Eligibility is limited to North Dakota residents whose principal occupation is farming and ranching.  These loan funds can be used for capital improvements.  The program operates to "buy down" (pay) part of the interest.  However, the buydown per loan can't exceed $20,000 per biennium and there is a lifetime maximum of $60,000.   Obviously the terms of the Ag Pace program have not kept up with inflation over the decades since I was Commissioner of Agriculture.  Why not invest more money into Ag Pace to strengthen the capacity and productivity of dairies, ranches, and farms?
Agriculture Diversification and Development Fund. This new program started in 2021 by passage of HB 1471. Funds can be used for grants, interest rate buydowns, and loans to meet the needs of livestock farmers and ranchers, e.g., "animal agriculture production facilities, including swine, poultry, dairy and feed lot production facilities."   The goals are superb, but the funds are paltry:  only $10,000,000 for the biennium for ALL purposes (not just livestock based businesses).  The fund is managed by an eleven person Agriculture Diversification and Development committee that appears to be housed within the Agriculture Products Utilization Commission (APUC).  The Bank of North Dakota reviews loan and grant applications. The maximum amount of an interest buydown is $500,000 – so it is possible that as few as 20 new projects could be funded in a biennium. Why not simplify the bureaucracy needed to run this program, focus its work animal-based agriculture, and fund it adequately?
But this isn't all there is for animal agriculture. There is also a beginning farmer real estate loan (capped at $750,000); Established Farmer Real Estate Loan (capped at $3,000,000), Family Farm Loan Program (BND's participation will be the lesser of 90% of the loan amount), Farm and Ranch Participation Loan Program, Farm Operating Loan Program, and Farm Real Estate Loan Guarantee Program, a First Time Farmer Finance Program, a Farm Service Agency (FSA) Guaranteed Loan Purchase Program, and a Livestock Waste Management System Loan Program, all of which are established programs that could be reviewed, simplified, and expanded for support of North Dakota farmers and ranchers by our own state-owned bank.
I'd like to draw a comparison to the way that coal, oil, gas and other energy companies are treated under the state's Clean Sustainable Energy Authority program. In the very short lifetime, of the CSEA, it has provided (according to Industrial Commission minutes) approximately $44 million in outright grants and $250 million in loans.
Why are farmers and ranchers – who received so much lip service in Governor Burgum's State of the State speech – only given the "solution" of repeal of the corporate farming law that has protected them since 1932, rather than a multimillion program of grants and loans provided to corporations by the Clean Sustainable Energy Authority? It boggles my mind.
But if someone says, but there are limits.  The corporation can't own more than 160 acres.  But this bill in fact imposes NO limits.
This bill has loopholes so huge a Case IH Tractor could drive through them.
Let's look carefully at the language purporting to limit the access of corporations to farmland.  At page 2, starting at line 7 , HB 1317 provides, "Notwithstanding subdivision a, 'farming and ranching' does not include … (5)  cattle backgrounding or cattle finishing feedlot operations, or the raising or producing of poultry, poultry products, milk, dairy products, swine or swine products, by a person that has agricultural landholding not exceeding one hundred sixty acres [64.75 hectares]."  HB 1371, p. 2, lines 7 and 12-15.
This purported cap will be ridiculously easy to evade or avoid. The corporations who want to buy land will simply create a medley of entities and buy 160 acres in the name of each one.
How could that be, if every "person" engaging in those agriculture practices can have a landholding not exceeding 160 acres?
The answer is that under North Dakota rules of statutory interpretation, a "person" doesn't have to be a human being.   See, NDCC Section 1-01-49(8):  "As used in this code, unless the context otherwise requires … 'Person' means an individual, organization, government, political subdivision, or government agency or instrumentality."  (Emphasis supplied.) Further, at NDCC Section 1-01-49(5), "Organization" means "a foreign or domestic association, business trust,  corporation, enterprise, estate, joint venture, limited liability company, limited liability partnership, limited partnership, trust, or any legal or commercial entity."
Thus, as written, HB 1371 will allow federal agencies and Chinese governments and who knows who else to buy North Dakota farmland and ranchland, as they fall within the definition of "person." The only way to avoid this result would be to limit the right to buy farmland to "individuals" as was done in Chapter 47-10.1, Agricultural Land Ownership by Aliens.
This bill is also a Trojan horse because if a foreign or domestic corporation is allowed to buy North Dakota farmland, the challenges of getting the corporation to disgorge it are daunting.  This is shown by the ease with which the Dakota Access pipeline evaded the law by buying the 7000 acre Cannonball Ranch (a ranch that is in the North Dakota Cowboy Hall of Fame) in Morton County.  Dakota Access LLC, a subsidiary of Energy Transfer Partners (ETP) bought the ranch in flagrant violation of the law in 2016.  The Attorney General gave the two corporations a pass and entered into a "nonenforcement agreement" which I presume was intended to last only as long as the protests.  But Dakota Access did not divest itself of the ranch after the protester's camp was dismantled and the protesters had dispersed.  It did not divest itself of the ranch, even after it was sued by Attorney General Stenehjem in 2018.  The case settled after the pipeline formed the "1806 Ranch, LLC (limited liability company, Farm/ranch/In-State).  to hold title to the property. EPT's vice president Greg Mcilwain – who lives in Houston, Texas –is named on the warranty deed as the 1806 Ranch president.
Just like ETP, the billionaires and multimillionaires and mammoth oil and gas and financial corporations looking for a safe place to park their money have an open pathway to park it in North Dakota farmland. Even if we later decide that was adverse to the state's best interest, they will not willingly part with the land once they get it. Indeed, it is unlikely that divestment would ever happen.  Corporate behemoths like Cascade Investment (Bill Gates) and Environmental Transfer Partners have access to larger legal staffs than the North Dakota Attorney General. They won't be intimidated by a letter form a paralegal, nor a citizen protest.  They can outlast the Attorney General, as they have already shown. Allowing corporations to own farmland is a huge step and should be approached very cautiously – if at all.
Corporations won't give up their land, once they have it.
HB 1371 is a Trojan hog because it is opens the door to China and other countries who may wish to buying North Dakota farmland to raise hogs.
It is laughably easy to form a corporation in North Dakota, and if the true owner is a Chinese corporation under control of the Chinese communist party, no one will know.
Smithfield is a subsidiary of the WH Group, formerly known as the Shuangui group. When Shanghui bought Smithfield for more than $7 billion, it also acquired 146,000 acres of farmland.  Further, Smithfield (aka China) could simply hire lawyers to churn out stacks of 160 acre entities and use them to buy vast swathes of North Dakota land. Given the concern over Chinese Fu Feng acquisition, the North Dakota legislature should be very very cautious here.
HB 1371 is a Trojan horse because it assumes if corporations are allowed to buy farmland, the livestock economy of North Dakota will be improved.  Maybe not.  Any corporation who can buy 160 acres at a clip can also buy a token amount of cattle to turn a land investment into a "farm" or "ranch." If they can afford the land, they can afford a few cattle. They may simply push more North Dakota farmers out of business by snapping up all available land and outbidding everyone else. How in the world can a young farmer compete with Bill Gates, or a multi billion dollar corporation backed by the Chinese government?
And, this isn't all!
Chapter 10-06.1 now has a series of provisions that require annual reports and disclosure of the owners of farms that fall within the exemptions currently provided by law. But those reports and disclosures won't be required for these new "critters" that will be allowed by HB 1371. Why? Because Section 7 of the bill says that a corporation that finishes feedlot cattle, or raises poultry or pigs or produces milk "on a landholding not exceeding one hundred and sixty acres" is not "farming and ranching" under Chapter 10-06.1. (And, if you are reminded of the word "Newspeak" in George Orwell's dystopian novel 1984, I'm with you!)
Let's reflect on the implications of that exemption and the new definition of "farming and ranching". Any corporate lawyer worth his pay can –in an afternoon — create 100 new entities that can each own 160 acres of land, for a paltry $100 fee per entity, payable to the North Dakota Secretary of State. That lawyer and his counterparts in any number of agribusiness or wealth management firms can create thousands of up-to-160 acre entities. This will be an attractive option for foreign governments, particularly China, and for many corporations that have outworn their welcome in other states (e.g., North Carolina, Iowa, California). Citizens of North Dakota who object to having these new neighbors would be told, "Sorry, your county, city or township zoning rules can't stop us because the law says this isn't farming or ranching."
My head hurts at the implications for governments that zone certain uses (e.g. cattle feedlots) out of residential areas if the legislature passes this bill. And, there is a lot in the news about concerns of China buying farmland in the United States. Could China take advantage of HB 1371? Without a doubt. When a corporation is formed in North Dakota, the ultimate ownership is easily hidden. As an example, one of the nation's largest hog companies in the United States is actually Chinese owned. The recently released book Wastelands: The True Story of Farm County on Trial by Corban Addison is about corporate hog farming in North Carolina and the disastrous human and environmental costs under Murphy Brown's hog farm management model. Who is "Murphy Brown"? Footnote 106 explains "The sole member of Murphy Brown LLC is John Morrell & Co., which is a wholly-owned subsidiary of Smithfield Foods, Inc., which is owned by United Global Foods (US), Inc which is owned by Ipopema 127, which is owned by SFDS Malta Limited, which is owned by Rotary Vortex Limited, which is owned by WH Group." Hmm. If the Attorney General can't even muster the energy to check out Bill Gates' so-called Red River Trust, he certainly won't be able to find out whether a newly filed corporation with the name "Fargo Swine, Inc." is ultimately owned by the Chinese Communist Party. And, by the way, China has rigorous laws on hog farms, which is why it is investing in and starting hog farms the United States.
All House Bill 1371 lacks is a section establishing a Ministry of Truth in the office of the governor or department of agriculture. Modelled after the Ministry of Truth in Orwell's 1984, it would be charged with educating citizens of North Dakota and would teach them that a Chinese-owned corporation on 160 acres with 1000 hogs with accompanying waste lagoons isn't a hog farm and doesn't stink, and it doesn't stink even if it is one in a chain of 100 similarly owned farms. Why? Because HB 1371 said it isn't "farming and ranching." Memo to the sponsors and to Governor Burgum and Agriculture Commissioner Goehring: you'll be able to do that when pigs fly.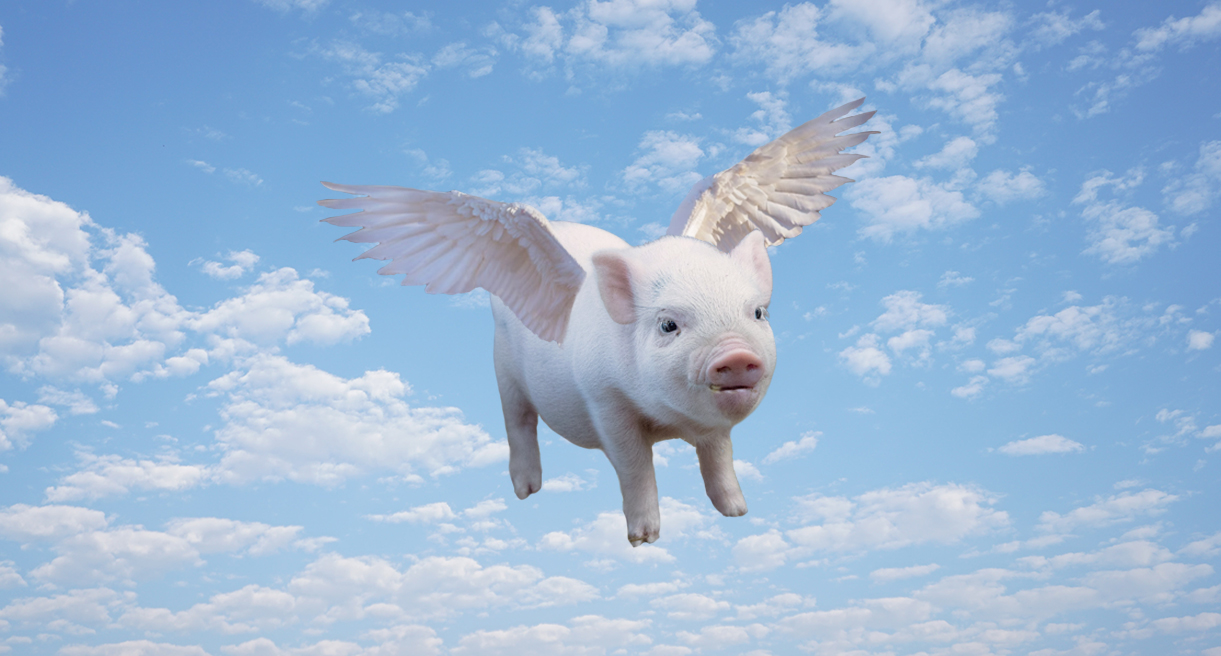 HB 1371 is a Trojan horse because its harms will outweigh its proposed benefits. We have other options that can result in more opportunities for North Dakota family farmers. We can revise anti-corporate farming law enforcement procedures to allow citizens to sue without the fear of having to pay billionaire's and huge corporation's legal fees if they lose.
Inviting corporations into North Dakota as proposed by Governor Burgum and as permitted by HB 1371 would be a mistake.  Giving them the power to buy farm and ranch land and engage in  agriculture is an invitation that can't be recalled or revoked.
House Bill 1371 is a Trojan horse that can cause untold harm to our state, our people, and the farmers and ranchers of North Dakota.
---
To learn more about these issues and tangible ways you can help family farmers, wherever you live, visit the Learn More section of my website.
https://sarahmvogel.com/wp-content/uploads/2023/01/kvly.jpg
675
1200
Sarah
https://sarahmvogel.com/wp-content/uploads/2021/05/Sarah-Vogel-author-logo.png
Sarah
2023-01-17 21:02:09
2023-01-19 20:15:32
Is House Bill 1371 a Trojan Horse? Yes! And a Trojan Cow, Trojan Pig, Trojan Chicken…