Muckraker of the Bakken Oil Boom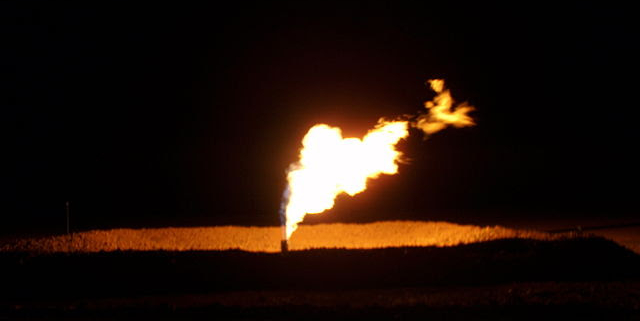 It's always a big deal when a small state like North Dakota (population 762,000) is featured in a book that's reviewed in the New York Times. Michael Patrick F. Smith's The Good Hand: A Memoir of Work, Brotherhood, and Transformation in an American Boomtown opens on an oil well site near Williston, North Dakota in the spring of 2012. It's his fifth day on the job and Smith is asked at a "safety meeting" to sign a paper. He asks an innocuous question and his boss says, "And when I hand you something, don't ask any questions. Just fucking sign it. And smile." Smith smiled and signed it. I was hooked.
I read The Good Hand in one huge gulp, all 478 pages, on a red-eye flight and I loved it.
When I stumbled off the plane, I was furious—not at Smith, whose book about his time as an oil field worker living in and working in the "boomtown" of Williston is beautifully written and researched. I'm mad at the politicians who allowed oil companies to use human beings as though they were disposable appliances in a wild rush for money.
The Good Hand's central themes revolve around the mayhem, money, and men that Smith encountered during his 15 months or so of living and working in North Dakota during the peak of the Bakken oil boom. This boom arose when oil companies realized that they could tap a huge oil field (the Bakken formation), miles underneath the pristine North Dakota prairies by use of hydraulic fracking and horizontal drilling. In the spring of 2012, 217 oil rigs were punching oil wells in a frantic attempt to secure oil rights before the terms of the oil companies' leases expired. Each rig employed (in various capacities) over 100 workers. Smith was one of those workers and he aspired to be known as "a good hand"—someone who knew his job, was reliable, and respected.
Much of the book is consumed with the wretched living conditions that Smith and his fellow workers endured. Yes, the pay was good, but the costs were spectacularly high. Ironically, Smith —who came to Williston from Brooklyn where he held a series of "indoor" jobs like bartender, musician, actor, and office worker—found that Williston rents were higher than Manhattan rents. He ended up paying $450 a month to sleep in a flophouse on a mattress in a living room shared with four other men, and thought it a bargain.
What most shocked me was the danger of the work, and the disregard shown for worker safety.  It is a modern day expose of the miserable working conditions that were tolerated by the oil companies, their many subcontractors and, I'm sorry to say, the state of North Dakota.
Smith doesn't name the politicians responsible for the mayhem of the boom, but I will. They are: former Governor Jack Dalyrmple, Attorney General Wayne Stenehjem, and Agriculture Commissioner Doug Goehring. They comprised the Industrial Commission that purported to regulate the oil industry. They remain proud of the "growth" and "rising employment" and "higher tax receipts" it brought. The New York Times determined that Governor Dalrymple received over a half million dollars from oil-related donors and PACs for his 2012 race.
The Good Hand is accurate and well told even if it makes North Dakota seem like an industrial hellhole with wretched working conditions. One chilling example is Smith's description of a long arduous day when he  and other workers toiled outside, wrestling with dangerous machinery, in negative 38 degree weather! Smith's writing alternatively sings:
"The horizon is all shades of white. Snow falls on a windy slant, and holds tight to the prairie's dirt crust, sparkling and reflection. Ice grapples a million glittering stalks of grass rigidly waving and clinking against each other. The whole sky is a single cloud stretched thin."
And horrifies:
"Again, Ole Bushy doesn't heed my signals. I'm straddling the haul truck's bridle when he pulls up on his winch. The generator is yanked a few feet into the air, and it slips a good foot and a half toward the swamp side of the trailer. I feel the whole world shift under me. I trip over the bridle, stumble across the sliding trailer, and drop down into the scoria on my hands and knees. The generator swings above my head unsteadily, straining the line. I'm lucky. If the pick had been off by another twelve inches, it would have sent me flying, and if the cable had snapped, it would have cut my legs off."
In 2012, North Dakota was the 50th state for on-the-job deaths, meaning that it was the deadliest of all 50 states. Post-boom, today it is the third-highest in workplace deaths in the nation, after Alaska and Wyoming.
Smith finally decides to leave North Dakota (he's frightened of dying), and as he leaves, he observes ruefully that despite all his hard work and long hours, he is more broke than when he came. He left knowing he had become "a good hand" but I hope his legacy is not limited to being a good hand. He is a muckraker, a 21st century Upton Sinclair.
I hope that in time The Good Hand will be viewed like the books written by the muckrakers of the Progressive era: Ida Tarbell, Lincoln Steffens, Ida B. Wells, Upton Sinclair, and later, John Steinbeck.
Upton Sinclair's The Jungle, which exposed brutal working conditions and exploitative housing practices in the Chicago meat packing district is eerily similar to Smith's descriptions of his time in Williston. (Upton Sinclair worked undercover as a worker in the meatpacking plant before he wrote the novel.)
In The Grapes of Wrath, Steinbeck described how the California growers advertised work and encouraged floods of people to come and then hired the most desperate at the lowest wages and worst working conditions. Smith describes the same practices in Williston, as he hunts for work upon his arrival amidst thousands of other job seekers, many sleeping in their cars.
In North Dakota, a few of us are trying to restore the humane values that so long governed our beloved state. A hundred years ago, the Nonpartisan League required coal miner safety, qualified inspectors, and stiff fines and penalties for violations, shelter for workers in the cold, limitations on hours, and other humane laws. But during the time Smith worked in North Dakota, the oil field companies knew that 90% of every fine for violation of North Dakota laws would be automatically suspended and there were no consequences to nonpayment of the 10% remaining fine. Due to the corruption that is implicit in a system where regulated industries are able to "buy" their regulators with campaign contributions, workers like Smith suffered and too many were disfigured, maimed, or killed.
Another reason for the dangerous working conditions that oil field workers still face today is a spiderweb of contracts between companies, contractors and subcontractors – each contract containing an indemnity clause pushing the liability away from the companies that derive the profit, and letting it settle on smaller undercapitalized entities with which the big companies subcontract. Attempts to declare these pernicious contract clauses unconscionable have been defeated by North Dakota Republicans in 2011 and 2019 even though most other oil producing states have outlawed such clauses. Ironically, Smith's fellow workers were loyal Republicans, who were shocked when Smith said he'd voted for President Obama.
As a lawyer, a Nonpartisan Leaguer, and a native North Dakotan, I read Smith's book with a mix of enjoyment, dismay (to wit, scenes of drinking and driving, lap dances, language, rampant racism), and respect for the workers who produce the oil for the rest of us to use, even as we complain about the environmental degradation of the production of that oil
Near the end of the book, long after the Bakken boom has gone bust and Smith is back in Brooklyn, he makes one of the most profound statements in this very hard-hitting book:
"Every boom does bust of course. It's a fact of life. The North Dakota boom isn't the one we need to worry about. Boomtown Earth is busting."
On July 25, Humanities North Dakota is hosting a free, virtual One Book, One North Dakota event with the author. I hope you'll pick up a copy of the book and join us!
https://sarahmvogel.com/wp-content/uploads/2021/07/unnamed.jpg
480
640
sarahvogel
https://sarahmvogel.com/wp-content/uploads/2021/05/Sarah-Vogel-author-logo.png
sarahvogel
2021-07-19 16:00:37
2021-08-31 18:46:17
Muckraker of the Bakken Oil Boom