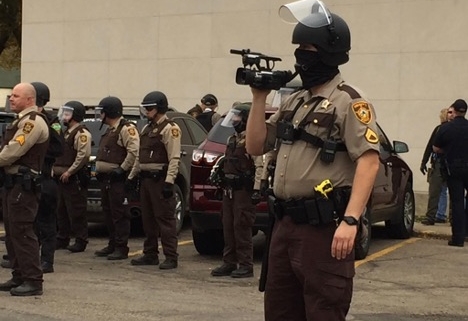 I've seen my share of dissent. I was at the University of North Dakota from 1964 to 1967 when students stood silent vigil on campus to protest the placement of nuclear missiles in hundreds of underground silos under the prairies of North Dakota. I lived in Greenwich Village from 1967 to 1970, and I watched massive anti-war protests from my law school dormitory overlooking Washington Square. To get groceries, I had to detour around violent mass arrests by New York City police. The Stonewall "riots" during the summer of 1969 occurred only a few blocks from my law school. And, in 2016 and early 2017, I witnessed some of the massive, historic Standing Rock protests against the Dakota Access Pipeline (DAPL) because I was based in Bismarck, North Dakota, 40 miles from where the pipeline met the protesters.
I have deep respect for those who peacefully protest in the pursuit of justice. I deplore arrests of peaceful protesters or use of force or threats of arrest by law enforcement to quell peaceful protests.
On September 3, 2016, journalist Amy Goodman, of Democracy Now, was in North Dakota learning about the Dakota Access Pipeline controversy. The Standing Rock Sioux Tribe had sued the US Army Corps of Engineers, arguing that the pipeline company should not be allowed to go under the Missouri River next to the northern border of the Standing Rock Sioux Reservation because it had not properly consulted with the Tribe about the Tribe's concerns. (The Tribe later also sued because the Corps had not required the pipeline to undergo a full environmental impact analysis.)
Amy Goodman was interviewing LaDonna Brave Bull Allard, when LaDonna got a call. The caller said that bulldozers had started to tear up an area with cultural sites (graves, cairns, etc.) that had been identified by the Standing Rock Sioux Tribe as places that the pipeline should NOT disturb.
LaDonna was alarmed, and said she had to cut the interview off.  She had to go where the bulldozers were.
Amy said, "I'm coming with you!"
Amy and LaDonna jumped in a pickup and went to where the bulldozers were grinding away the surface of the land, in front of shocked and bewildered witnesses.
Here is the film that Amy Goodman and her team took that day. The scene with the security guard's dogs attacking the people went worldwide; many said it reminded them of the horrible scenes from 1963 Alabama where civil rights protesters faced similar attacks.
Who do you think was arrested? The security guards (who had no license to be in North Dakota)? Or Amy Goodman? If you guessed the unlicensed security guards, you would be wrong. Five days later, a warrant for the arrest of Amy Goodman was issued by Morton County for criminal trespassing. Later, the warrant was amended to charge her with "riot."
Amy Goodman didn't take the arrest passively. She wrote a column, "North Dakota vs Amy Goodman: Journalism is not a crime." My favorite line is, "North Dakota, muzzle the dogs, not the press."
I was in Mandan with my journalist friend, Darrell Dorgan, on October 17, 2016, the day set for Amy Goodman's first court appearance. We were trailing Tom Dickson, Amy Goodman's criminal defense attorney. We were shocked at the scene in front of the Morton County Courthouse, where there was a wall of black uniformed militia that stretched out a half block to bar the public's access to the courthouse.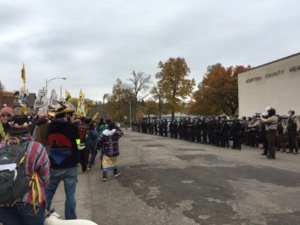 Then we noticed a tall man who looked like a Star Wars villain filming us and everyone in the small crowd across the street with a facial recognition camera. (By the way, the group he was filming seemed to me to be a blend of the Bismarck Unitarian Universalist Congregation and the people who attend the United Tribes International Powwow every September.)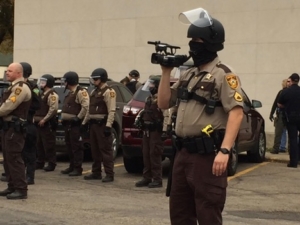 Darrell and I followed Tom to the door of the courthouse, where even more militarized law enforcement stood. At the door, the civilian security guard who knew Tom and me told us "only lawyers can come into the court house today" but she allowed all three of us into the building. (Darrell wasn't a lawyer, and Tom and I didn't correct her.) I wondered about the North Dakota Constitution's guarantee that "All courts shall be open…"
By the time Tom, Darrell and I got through security, District Judge John Grinsteiner had already dismissed the charges against Amy Goodman, based on Tom's previously filed written arguments.
When Darrell and I walked back to where we had parked, we saw an armored vehicle had been moved into an alley behind the courthouse and another placed in the middle of a nearby intersection. We were shocked to see a combat-ready cop standing in a gun turret.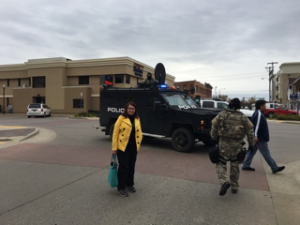 Was all that because of the first appearance of a prominent national journalist?
I think not. It was to intimidate people from further protests and to create a façade that the protesters were dangerous. It was to create the impression that law enforcement officials must have had valid reasons to spend all this money, bring in all these men with weapons, and put cops into the turrets of tanks. People who saw this display were supposed to wonder, "are there snipers? Am I in danger?"
While Amy Goodman's case was dismissed, others weren't so lucky to have such a quick end to their legal travails. There simply weren't enough North Dakota licensed criminal defense lawyers to represent the hundreds of people who were arrested. On December 14, 2016, eight North Dakota lawyers (I was one of them) and two-out-of-state lawyers asked the North Dakota Supreme Court for an emergency order to allow out-of-state attorneys to practice in North Dakota courts without the delays and costs that would have been required. The Supreme Court asked for comments (16,000 were received) and granted our petition a month later. Almost right away, a flood of highly qualified pro bono criminal defense lawyers arrived from all over the country.
In the end, it was a legal debacle for law enforcement in Morton County.
But were the North Dakota and Morton County officials interested in convictions, or were they interested in intimidation of water protectors and in creating the impression that the people at the DAPL protests were "rioters"? I think it was the latter and, unfortunately, I think that they were for the most part successful.
In December 2016, I was in my neighbor's basement with a group of earnest young adults who were appalled at the treatment of the DAPL protesters. They supported having a proper environmental impact statement before the pipeline could cross the Missouri River. Several of them had the idea of going to Senator John Hoeven's office to demand he support that study. They proposed a "sit in" in his office all day or until he would give them an answer. But after a spirited discussion, they decided not to go. Why? They didn't want to be arrested! I regret that I didn't volunteer to go with them. I thought I didn't have time. I was wrong. I should have made time.
Years later, I was traveling in Scotland and Estonia and friendly people would ask, "where are you from in the United States?" If I said "Bismarck, North Dakota," they would look blank. But when I said, "40 miles north of Standing Rock," they nodded. They knew exactly where I was from. Indeed, they had probably watched the Amy Goodman video.
I'm afraid to say that the money spent each year to promote North Dakota as a tourism destination is likely still overwhelmed by the reverberations of the bad publicity from DAPL.
Is DAPL over? No. The litigation over the DAPL pipeline still rages on.
The flood of criminal cases has tapered out. But every time I see a newspaper story about the DAPL pipeline say "hundreds of people were arrested"—without adding that almost none of the people who were arrested were found guilty of anything—I get upset at how little of the story is known. Many of the criminal cases were dropped by the prosecutor (often on the eve of trial); many other cases were dismissed before trial or after trial by a judge. Judges, not juries, heard most of the cases. The success of the indoctrination campaign was shown, in part, by the fact that most defendants requested trials by judges, without juries, due to polling that showed that the publicity campaign against the water protectors had made it impossible to get an unbiased jury.
On January 26, 2021, in a 36-page decision captioned Standing Rock Sioux Tribe v. U.S. Army Corps of Engineers, the United States Court of Appeals for the District of Columbia held, "We agree with the district court that the Corps acted unlawfully…" In other words, there should have been a full environmental review and the water protectors should have been listened to; not arrested.
LaDonna Brave Bull Allard passed away on April 10, 2021. She was given a wonderful video eulogy by Amy Goodman.
One hundred years ago, in a case involving the Nonpartisan League, United States Supreme Court Justice Louis Brandeis said: "Like the course of the heavenly bodies, harmony in national life is a resultant of the struggle between contending forces. In frank expression of conflicting opinion lies the greatest promise of wisdom in governmental action, and in suppression lies ordinarily the greatest peril."
I'll continue discussion of the perils of suppressing peaceful protest by use of criminal arrests next week in part II of this essay. It will touch on how prosecutors tried to use criminal law to suppress the ideas and initiatives of the Nonpartisan League.
https://sarahmvogel.com/wp-content/uploads/2021/07/Picture2.jpg
351
468
sarahvogel
https://sarahmvogel.com/wp-content/uploads/2021/05/Sarah-Vogel-author-logo.png
sarahvogel
2021-07-19 16:20:39
2021-07-29 22:56:04
The Greatest Peril